Wellbeing
Originally published on Thursday, 31st January 2008
Rub-down Relief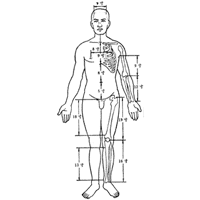 It's hard to be picky about massages, but I am: too little pressure is tragic.
Which is why Tuina is, hands down (excuse the pun), the best massage I've ever had.
Clinton - my Australian bred, Chinese trained practitioner at China Life - begins with the shoulders and works his way around the whole body, balancing and invigorating. My session ends with fire-cupping (remember Gwyneth Paltrow's mysterious circular bruises?) and dietary guidance: eating a juicy pear will help me to beat my cold.
While Tuina massage (pronounced two-ee-na) enjoys a reputation as the friendly sibling to acupuncture, it actually employs similar health harmonizing methods. Focusing on the body's meridian lines, eight massage techniques are alternated to remove blockages and stimulate the flow of Qi and blood which, consequently, promotes healing.
That old spa selling point: relaxation is accumulating dust next to our lavender oil. Medicinal manipulation is a trend that even the NHS has acknowledged as credible.
My session is a blissful hour, but traditional tuina centers offer walk-in 10 minute tune-ups (Clinton recommends them as part of a healthy, holistic lifestyle). Just say no to second-rate rubs.
UJ tried tuina at China Life: 101-105 Camden High Street, NW1 - 020 7388 6704. £1 per /minute
Also offered at The Institute of Chinese Medicine: 44-46 Chandos Place, C2N - 020 7836 5220
and Gin Sen: 11 Harben Parade, NW3 - 020 7686 7348