Wellbeing
Originally published on Tuesday, 22nd November 2011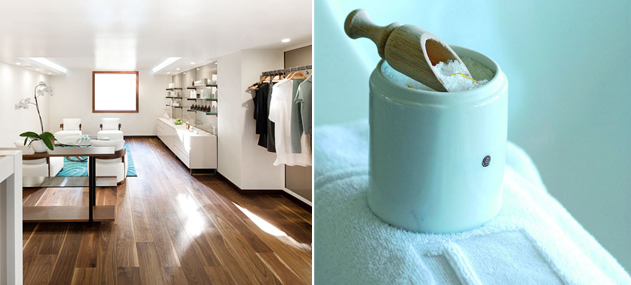 London's serene answer to the spa at swish Parrot Cay resort

Metropolitan London, Old Park Lane, London, W1K 1LB
+44 (0)20 7447 1047
Location
Thanks to refurbishment of its bar area, noughties celeb hangout The Metropolitan Hotel is back on the radar, and with its new lease of life comes a new Como Shambhala wellness area on the 1st floor. Designed to reflect the raved-about spa at the Met's sister hotel in the Caribbean, Parrot Cay. This is a stop for guests and non-guests a like and when we visit we have it all to ourselves.
Vibe
This is the kind of place that makes you feel relaxed as you step over the threshold. Gentle whale music (or similar) wafts out from Bose speakers as you're whisked into shiny changing new rooms to strip yourself of dirty outside clothes and clad yourself in a pure white robe. From then on, it is serenity all the way.
Treatments
The Asian-inspired menu offers holistic treatments including the Shambhala Ritual, Wellbeing Facial, Purify for Men and beauty stalwarts such as manicures. The day before, a hotel guest had the lot. We are treated to a Como Shambhala signature massage, 60 minutes of urban bliss delivered by Samantha West, a skincare specialist who had the most fantastic skin our city-stressed selves had seen in a while. Using Como Shambhala essential oils, the rub down was pampering yet thorough and was done so well that it was hard for us to stay lucid.
Décor
Designed by Christina Ong, who was apparently very hands on, the space is faultless: featuring 7 treatment rooms, some of them doubles, it is all soft white beds, dark wood floors, tones of white and muted grey, and spotlessly clean. The Asian theme is carried through in the music, pebbles artfully placed on beds, and orchids in the rooms.
Upshot
Possibly one of the best massages we've ever had, and that is an accolade. After the treatment, we chilled in our gown reception and was furnished with green tea and nuts, which was a nice touch. If we were going to nitpick the chill out area could be bigger and more private, but that's only because we wanted to put our feet up and stay longer. A testament to West's massage technique was that we weren't too zonked out to join the London throng again and carry on with our day.