Eat & Drink
Originally published on Tuesday, 13th September 2011
WineChap Q&A: J Sheekey's Marco Fazzina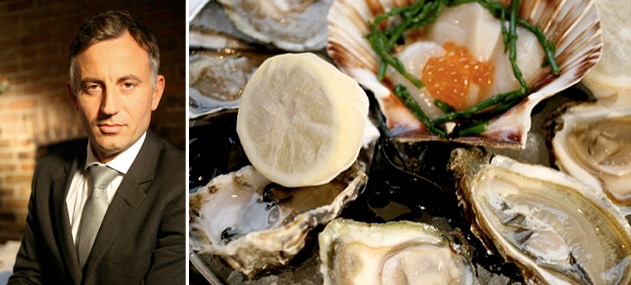 I first met Marco at Daphne's when he was the General Manager and I was hosting boozy Tuscan wine events for Kensington's ladies-who-lunch. He was much beloved by all the regulars and so sadly missed when he headed across the pond to launch Le Caprice on Manhattan's Upper East Side. But thankfully now he's back, and running the show at the group's enduringly popular J Sheekey, the discrete haunt of celebrities on their night off.
Q. How long have you been with the Group?
A. I started in Caprice events in 2005 (Fashion Week, in fact, at The Berkeley Square Ball) then moved to GM at Daphne's, followed by taking on Caprice NY at the end of October 2009. I came back to man the helm at Sheekey's in January this year.
Q. What is the power table?
A. We are probably the most egalitarian of the group, as everywhere here is an intimate alcove. Sure, regulars have their favourite tables, but like all of us some prefer discretion, some prefer to be seen.
Q. What's your top dish on menu at the moment? Any seasonal specials?
A. I always recommend the razor clams! And of course, we are all about fishing sustainably: the grilled whole mackerel is looking particularly good. But we have some great backing singers in the seasonal veg dishes.
Q. What's the best value wine? And to push the boat out?
A. Our Pinot Blanc from Alsace at £34 is great. But for a little more, the Adelaide Hills Pinot Gris at £49 is just so perfect with food. It's worth noting that our red list is as long as the white selection (cue that old gag about Connery fingering Robert Shaw for a S.P.E.C.T.R.E agent in From Russia With Love for ordering a Chianti with his Dover Sole), and Bruno Sorg's Pinot Noir at £44 is fantastic.
Q. Pretending for a moment that we are not old chums, how do I get a table at one of London's most popular joints?
A. The usuals: call on the day to make the most of last minute drop outs; pop in and chance it; always be flexible; but most importantly, come to the Oyster bar next door. Don't shout it too loudly but the bar also hosts our monthly Sunday Speakeasy: £30 including entertainment. 26 round the bar and you get fed, watered with our signature cocktail (Twinkle) and a great music hall/cabaret performance from a top West End talent.
Q. Juicy bit of gossip?
A. Liza Minelli is keen to have her photo next to Laren Bacall...
Q. And what, in your opinion, is the enduring appeal of Sheekey's?
A. We opened in 1896 and our Dover Sole is still filleted as it was in your grandfather's day, so it definitely holds a place in peoples' hearts for the consistency of food and service. But we are also very relaxed, and not precious – the celebs are all here... but on their night off.